Ⅰ、What is the Inflatable pakpaft fabric ?
There are many different types of inflatable fabric that are used for inflatable structures.
But a sound structure begins even before these steps with the fabric, or material, selection.
Materials play a crucial role in a structure's performance, especially in air-supported structures, such as inflatables.
Given that they do not have much of a frame, the fabric must carry the load of the overall structure.
Inflatable fabrics are typically coated or laminated with synthetic materials to increase their strength and environmental resistance.
Among the most widely used materials are polyvinyl chloride (PVC) coated vinyl or nylon, and oxford woven cloth.
PVC coated materials are more durable and more expensive.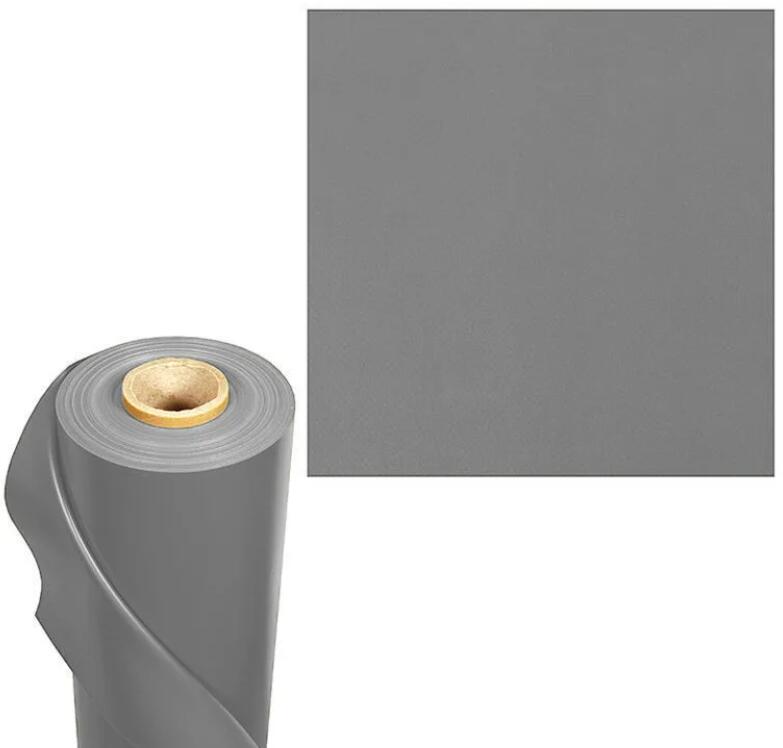 Ⅱ,.What is made of for Inflatable pakpaft fabric ?
Inflatable pakpaft fabric which is made of PVC and base fabric is a professional inflatable cloth, good cold resistance, up to max 40 degrees low temperature;
good flame retardant, from the fire within 5 seconds of self-extinguishing, no damage.
We use the inflatable Castle material for the screening PVC fabric, by the Technical Supervision test results show that this inflatable castle material on the skin without irritation, non-toxic to children without any damage.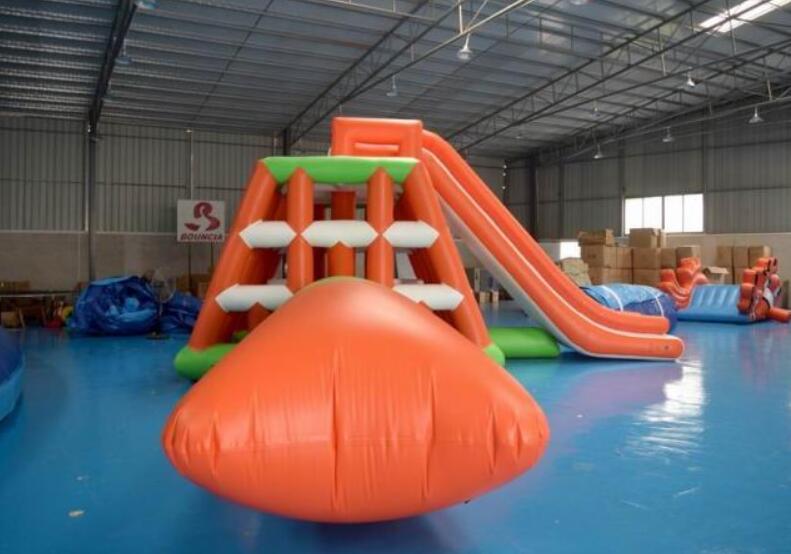 Ⅲ,.The Charater of Inflatable pakpaft tarpaulin:
1. High strength, high tearreisitance easy to assemble
2. Anit-uv, anti-water, and self –clean, longtime durable time.
3. temperature can keep it fro -30 degree to 70 degree. B1 fire resistance will suit for clients needs.
4. easy to fold and transportant, save place.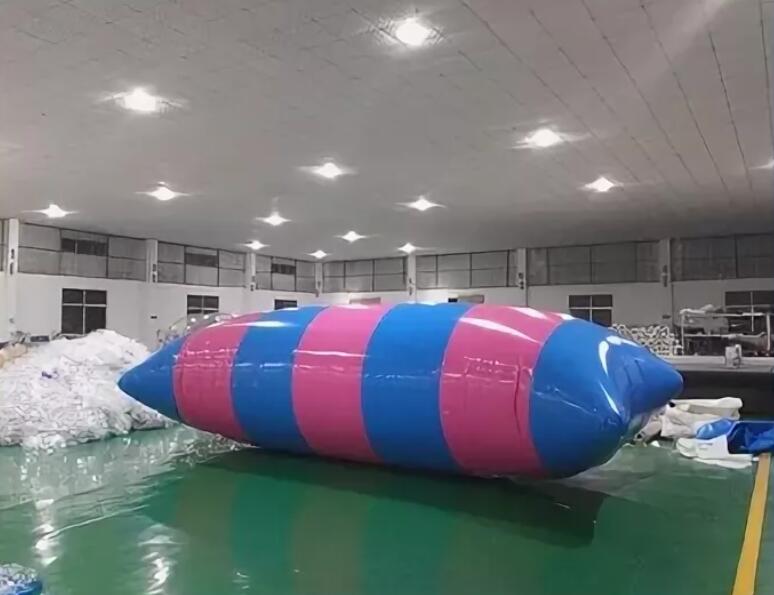 Ⅳ. Benefits of Inflatable pakpaft vinyl fabric
1.auto-clean
2.waterproof No leakage
3.no fading,loong outdoor lifetime
4.no toxic
5.good tear and tensile stength,

Ⅵ, About DERFLEX China:
1.Quality assurance: We will 100% return money if any quality problem, our QC department will inspect each order
before ship.
2.Experience: 20 years' R&D and production experience.
3.Production area: 60,000 square meter, 20 senior engineers and 350 workers.
4.International exhibition: Every year we attend USA, Germany, Russia, Spain international exhibitions etc.
5.Product quality: Our enhanced products are products that combine European and American quality standards.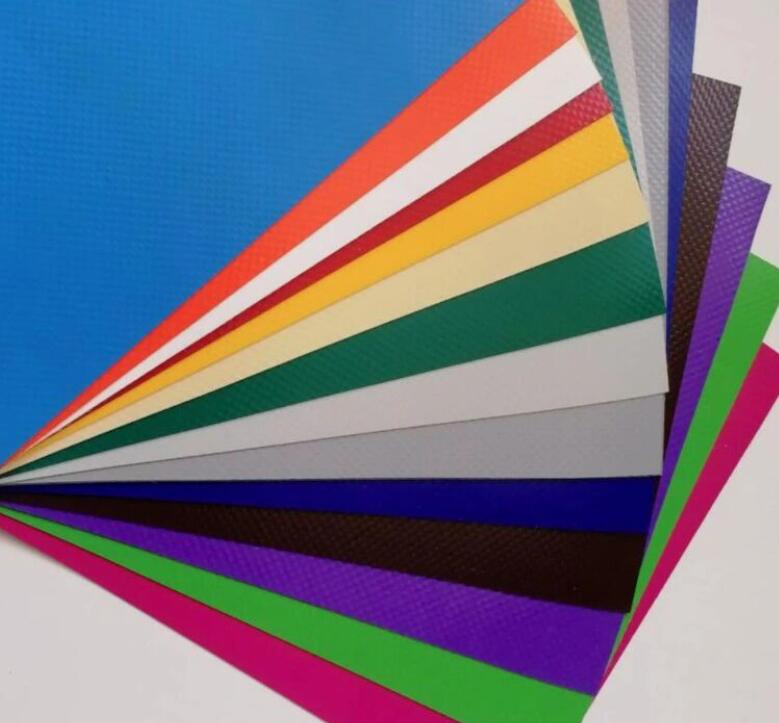 DERFLEX Production Lines
1. Knife coating production lines to make High adhesion coted fabrics, the high adhesion makes higher outdoor durance and Anti-UV characters
2. Hot-melt coating production line: With high water-resistant and water tight and air tight characters, which can make inflatable products
DERFLEX is exporting to more than 100 countries all over world.
Professional Sales and After-sale survice;
Experienced production team;
Good reputation on quality control;
Immediate response to customers' questions
Makes DERFLEX stronger business range on PVC coated fabrics industry, which can compete >95% products from other factories

DERFLEX is a professional Super Clear PVC Film Transparent PVC Tarpaulin Manufacturers & Suppliers from China for 16years.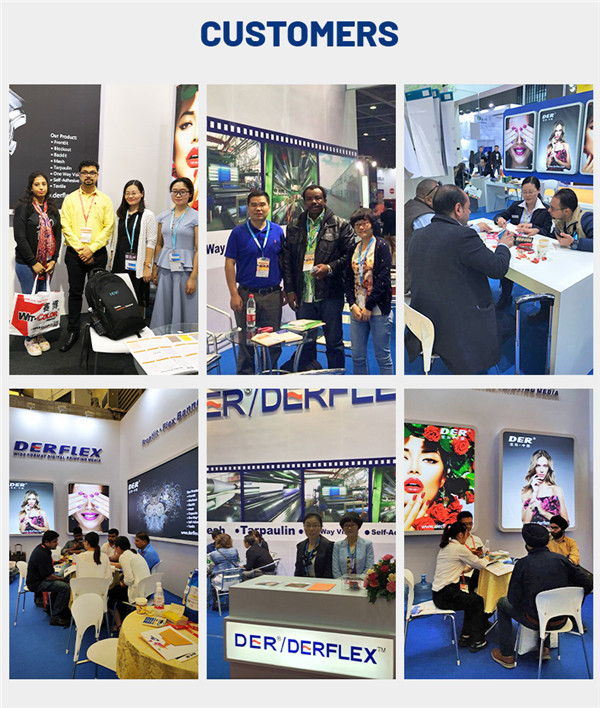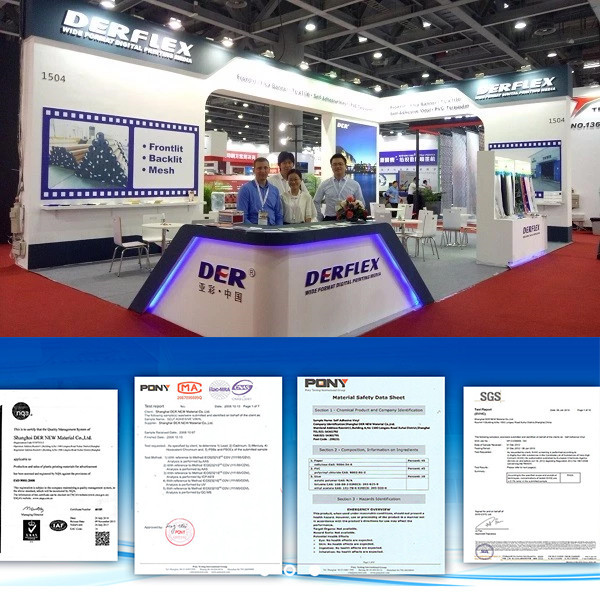 Shanghai DER New Material Co., Ltd is professional manufacturer of PVC coated tarpaulin, experience over 18 years.
2 knife coating production line, 4 calenders, 8 lamination machine, we make both laminated and coated PVC tarpaulin material for various applications.
As an PVC material experienced company, DER has expanded the marketing to all over the world by attending different kinds of exhibitions, like IFAI, SGIA, Techtextil and China Sign and so on.
Now we have many customers from UK, Russia europe countries, North America countries, like United States, Canada, South America, like Mexico, Agentina, Span, Africa, such as South Africa, Kenya, Nigeria, Tanzania and other countries in the world.

If you have more interest, please contact us freely, Email :Mandy@derflex.com , WhatsApp: +86 13818419094