What's the main applications for INDUSTRIAL IMPACT TRAFFIC DOORS ?

I,What's the main applications for INDUSTRIAL IMPACT TRAFFIC DOORS ?
Industrial impact traffic doors are suitable for heavy duty industrial applications where a barrier is required between two areas while allowing for the pass through of pedestrian, forklift traffic and finished goods.
SERIES 1500, Impact traffic door is the perfect general purpose door. The cam type hinge hardware with hidden hinge design minimizes maintenance, while maximizing door life. Great for Supermarkets, retail and BIG BOX stores, restaurants, pharmacies, and processing plants.

II, Impact traffic door Features
Designed for openings up to 8'W x 8'H, the series 1000 impact traffic door is ideal where privacy into restricted areas and appearance are a major considerations. The "Super Swing" no spring gravity hinge opens at the slightest touch and closes softly and quietly. The "Super Swing" hinge system allows for minor door adjustments.
Available in a wide range of models with brand name high-pressure laminate finishes such as: Arborite, Formica, Wilsonart, Nevamar, in both solid and woodgrain finishes. Also available with metal cladding such as; stainless steel, anodized aluminum and galvanized steel, either solid or in combination.

III, RIGID INSULATED IMPACT DOOR
Designed for door openings up to 8'0"W x 10"0"H where privacy into restricted areas, temperature control, and appearance are major considerations. The rugged v-cam hardware is designed to be virtually maintenance free. Adjustable spring to compensate for some negative pressure. The 1-3/4" thick insulated panels have the strength to withstand heavy push cart, and light motorized pallet traffic while being light weight to service pedestrian traffic. Large vision areas provide the maximum personnel safety. Available in a large selections of colours, the Series 4300 impact traffic doors are ideally suited for supermarkets, retail stores, restaurants, pharmacies, convenience stores, processing plants, and refrigerated applications. Foam injected insulation and full gasketing provide excellent environmental control and reduce energy costs.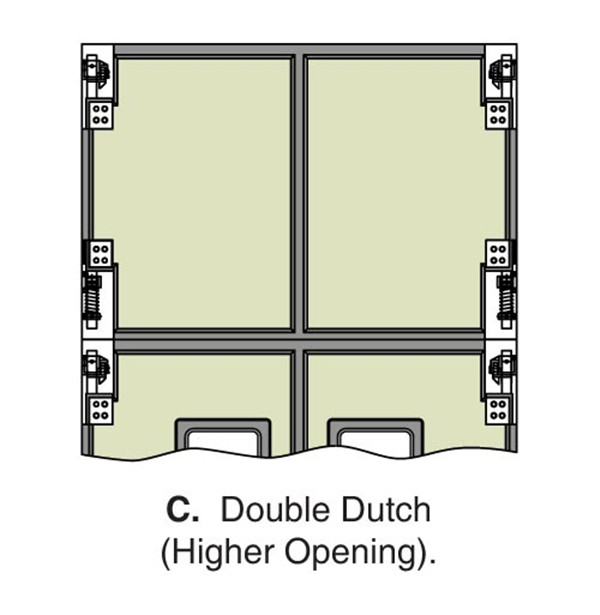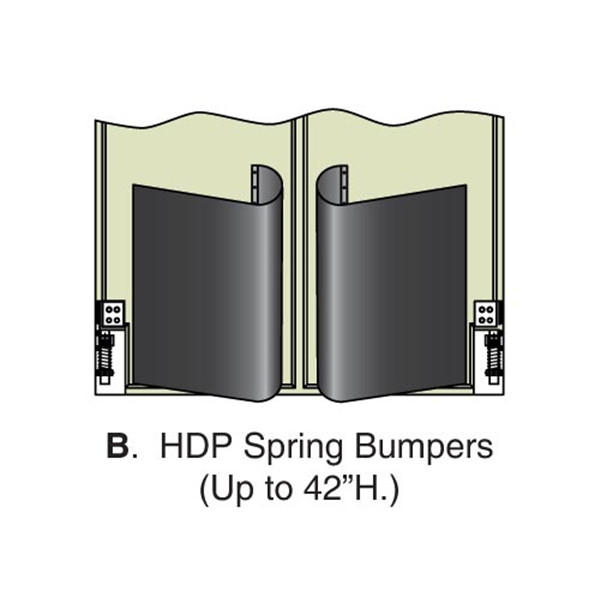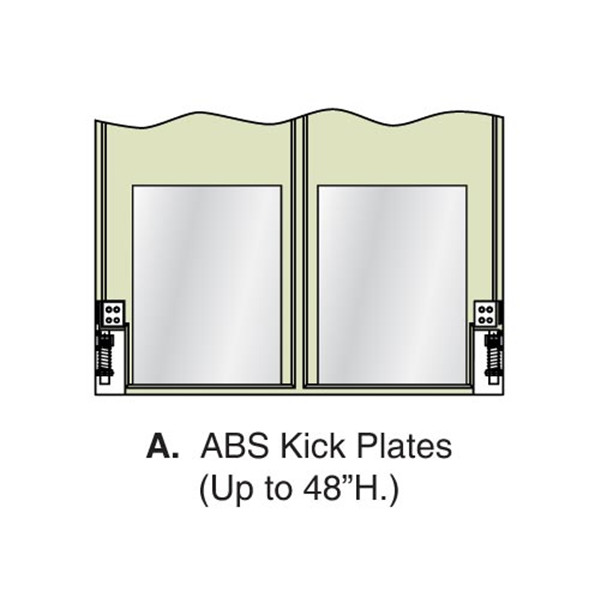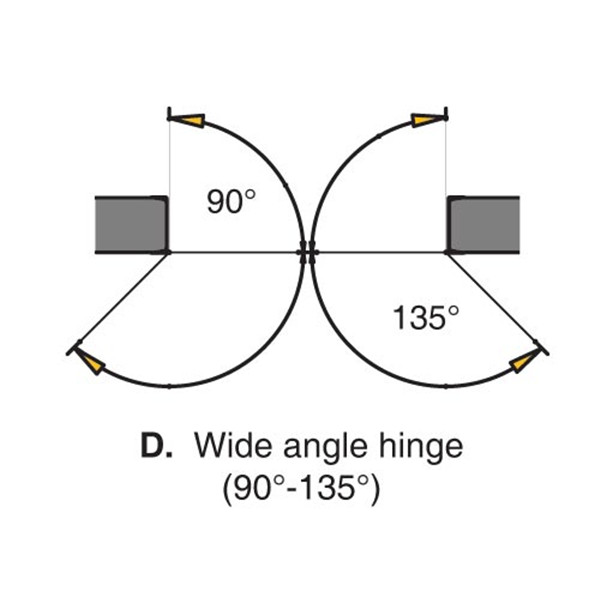 IV, More Options:
1/4" hick steel floor
mounted jamb guards
1/4" thick Jamb mounted
jamb guards.
Chain locking collar
H. 1/4" thick x 12"
extension "U" brackets
Hold open device
Door stop
Cane bolts
(top and/or bottom)
Protective Bollards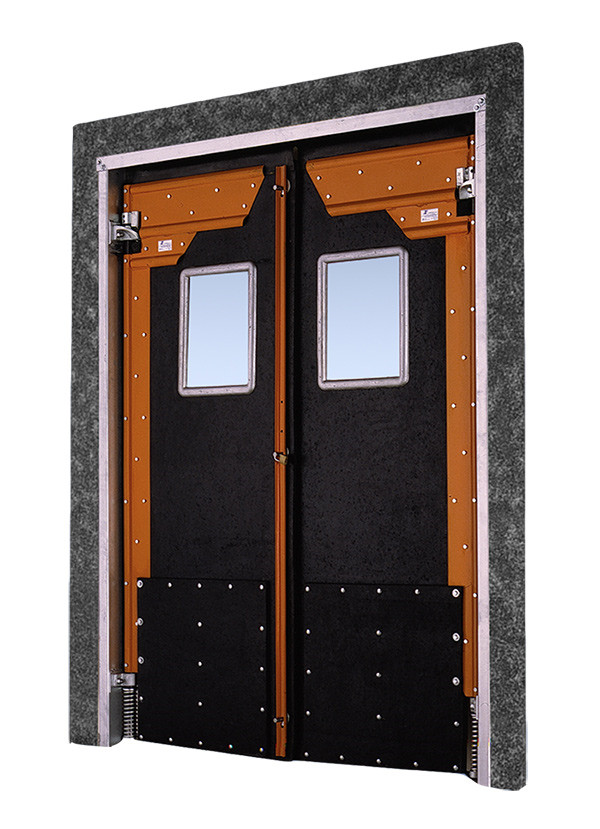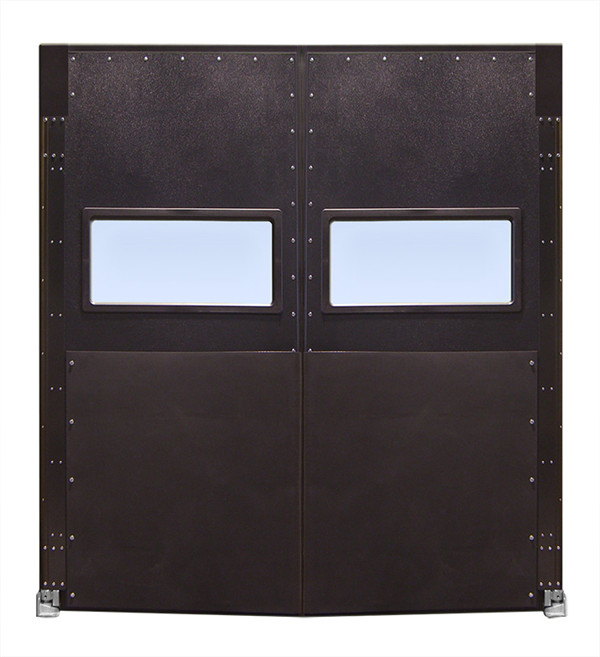 V,Colour Options:
Beige, Black, Blue, Brown, Green,
Grey, Red, White. For colours other
then those listed please consult factory.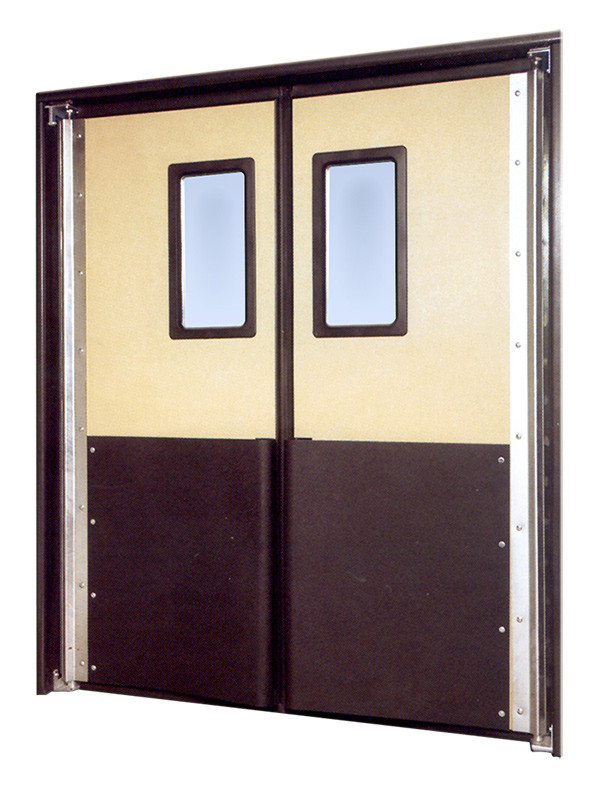 About DERFLEX China:
1.Quality assurance: We will 100% return money if any quality problem, our QC department will inspect each order
before ship.
2.Experience: 20 years' R&D and production experience.
3.Production area: 60,000 square meter, 20 senior engineers and 350 workers.
4.International exhibition: Every year we attend USA, Germany, Russia, Spain international exhibitions etc.
5.Product quality: Our enhanced products are products that combine European and American quality standards.

If you have more interest, please contact our sales department for more information.
Email :Mandy@derflex.com , whatsapp: +86 13818419094.