PVC roofing membrane material is widely used in roof waterproofing and sound proofing. This type of roofing material is made out of polyvinyl chloride, which is a type of plastic. The plasticizers in the roofing material make it flexible. PVC roofing comes as a single-ply roofing membrane, which means it rolls out to cover the roof in a sheet to create a skin-like coating.

I. Specifications:
PVC Roof Membrane is a PVC coated polyester fabric with excellent dimensional stability, is highly reflective, with heat-weldable seams, and a unique lacquer coating applied to the top of the membrane to reduce dirt pick up.
item

value

unit

test method

Basic fabric

1000D*1000D

Denier

construction

20*20

Threads/Inch2

total weight

1600

gsm

DIN53352

Thickness

1.5

mm

Breaking strength

L :2500

N/5CM

DIN53354

W:2300

Tearing strength

L:260

N/5CM

DIN53356

W:255

Adhesion

120

N/5CM

DIN53357

Applicable

-30/+70

℃

FR

B1/B2/M1/M2/NFPA701(According to customer request)
II. Main Advantages of DERFLEX PVC roof membrane
1. PVC is one of the most frequently used types of plastic around.
2. PVC material is able to be processed into a variety of products with unique performance characteristics, one of these products being modular roofing systems.
3. PVC offers a great material to use in modular roofing in large part because of its durability. Even in harsh conditions and climates, this reliable roof membrane will hold strong.
4. The heat welding process creates a permanent bond between each individual PVC roofing sheet, forming a solid layer spanning your entire walkable roof.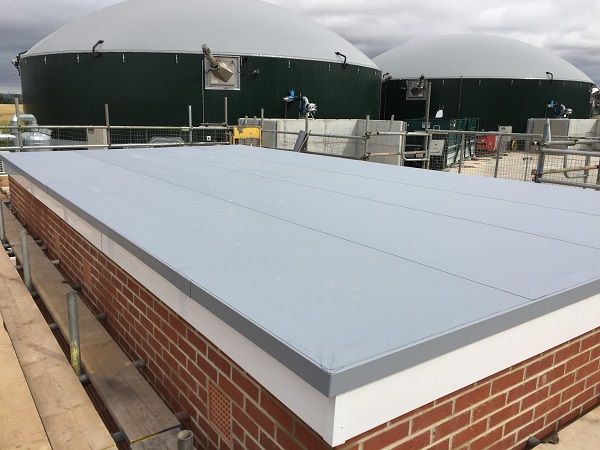 III. Options
PVC membrane is available with these options-
Colors: White, Gray or Tan
Thickness: 0.050inch, 0.060inch, 0.080inch
Widths: 40.5inch, 60 inch (5 ft.), 81inch, 120 inch (10 ft.)
Reinforcement Fabric: Polyester is standard, FRS (Fiberglass is optional)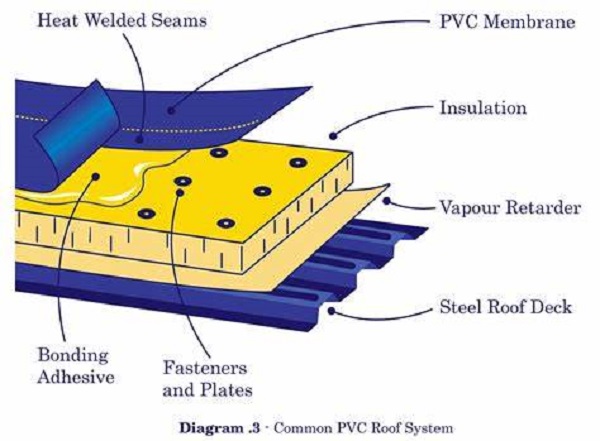 IV. How to install PVC roof membrane?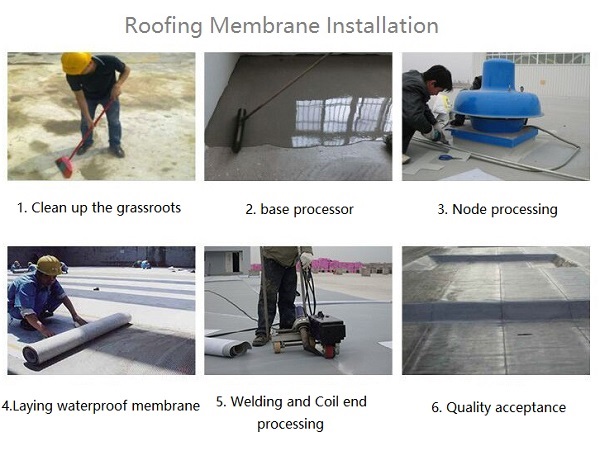 V. Applications:
PVC roof tarp material can be also used for walls, and flooring.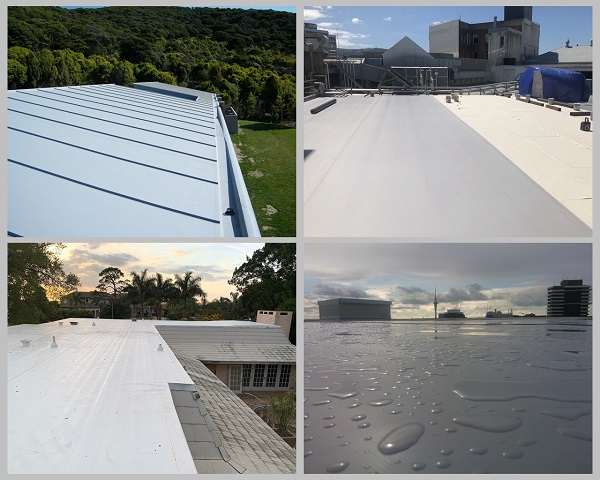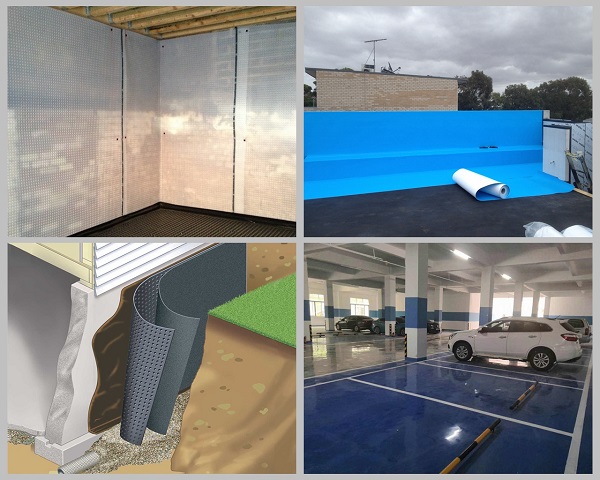 VI. You may also want to know
1. What is a PVC roofing system?
PVC roofing, otherwise known as or polyvinyl chloride, is a type of single-ply roofing membrane used on commercial or industrial roofs that are either flat or low-sloped. Membrane roofing is a type of roofing system for buildings and tanks. It is used to move water off the roof. Membrane roofs are most commonly made from synthetic rubber, thermoplastic (PVC or similar material), or modified bitumen.
2. What is vinyl membrane roofing?
Polyvinyl chloride, more commonly known as vinyl roof membrane, is an inexpensive roofing solution that boasts improved energy efficiency for homes on which it is installed. Vinyl membrane is typically used on low-slope roofs. PVC roofing is made from two layers of PVC roof material with polyester added in between the layers to act as a reinforcement. The layers in a PVC roof include additives to make the material flexible, UV stable, and to prevent curing. By adding a layer of acrylic coating to roof membrane, a PVC roof is made reflective and repellent to dust and dirt.
3. What is a single ply roofing membrane?
Single-Ply Membranes are sheets of rubber and other synthetics that can be chemically adhered to insulation or ballasted creating a layer of protection on your commercial facility.
4. Which is better, a TPO membrane or a PVC membrane?
TPO membrane does have better environmentally friendly effects. However, Extreme high temperatures do not affect this membrane the same way it does a TPO roof, and that makes PVC better suited for the southern states. The most important thing to remember about single-ply membranes is that the roofing system you choose best fitted for your needs is only as good as the company you hire to install it.
5. Which is the most popular type of roofing membrane?
Over the past 30-40 years, single-ply roof membranes have come to dominate the commercial roofing industry for their effectiveness and affordability in covering flat and low-sloped roofs. Today, the most popular membrane systems are typically one of two varieties of thermoplastic membranes: TPO or PVC.
6. TPO vs. PVC Roofing
Thermoplastic Polyolefin (TPO) roofing is made from a polymerized rubber blend and reinforced with a fabric scrim for additional flexibility and strength. It has advantages affordable, Energy-efficient, Lightweight and easy to install, Recyclable; however, it gives short service life, and Prone to leaking at the seams.
Polyvinyl Chloride (PVC) roofing is made from ethylene and chlorine, combined with plasticizers to improve flexibility and reinforced with polyester or fiberglass. It is Chemical resistant, Fire-resistant, Wind-and-weather resistant, long service life. But more expensive to install than TPO, challenging to repair and more prone to cracking in colder climates.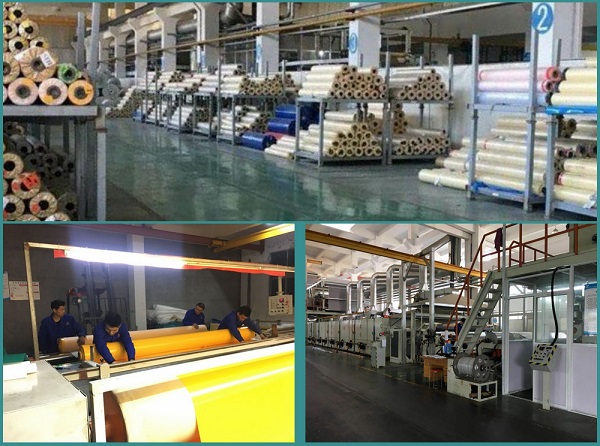 DERFLEX is one of the leading manufacturers in China focusing on industrial fabrics, with experience over 20 years.

If you have more interest, please contact
Steven Lee
+86 15601786499
Reply within 8 hours during working days.